HPE Nimble Storage
If you are considering a new data storage solution for your organisation because of issues such as unplanned downtime, wasting time with 1st and 2nd line support, experiencing slow-down or lag accessing your data or need to reduce costs in your data centre, then Nimble Storage, the flash storage array is a solution you should consider.
It leverages InfoSight, the sophisticated analytics platform, that constantly monitors your storage solution to identify and fix problems before they occur. Nimble is a comprehensive, all encompassing, cloud ready, data storage solution that technology analysts Gartner have identified as a leader in the flash storage market.
Checkmark IT is a Hewlett Packard Enterprise (HPE) Silver Partner, working closely with the vendor to supply Nimble to a wide range of organisations and IT departments across many different sectors. We will work with you to fully scope, design and implement a Nimble Storage solution that encapsulates all of your requirements.
Find out what we and Nimble Storage can do for you by calling (+44) 161 302 3900. Otherwise, use our online contact form to leave a message and our consultants will be in touch.
What is Nimble Storage?
Nimble Storage is a competitively priced, predictive flash storage, that has been designed from the ground up, to take advantage of solid state disks (SSDs) as cache in combination with traditional hard disks. It leverages a predictive analytics platform called InfoSight, to identify and solve storage issues before they arise.
The technology is designed to close the 'app-data gap', a term first coined by Nimble Storage in 2016. Complex infrastructure in an organisation creates an app-data gap, that disrupts the flow of data and can make users wait when opening files, executing server scripts, or leveraging collaboration platforms such as CRM or ERP systems. Nimble Storage offers the technology to actively predict, identify and close barriers to data velocity across your entire infrastructure stack - something that is vitally important to increase performance, reduce downtime and to maximise the productivity of your IT systems.
Why Nimble Storage?
Eliminates the need for 1st and 2nd line support - InfoSight, the predictive analytics technology behind Nimble Storage, automatically predicts and resolves 86% of all issues, saving you precious time dealing with 1st and 2nd line support agents who troubleshoot issues with your storage system. If, for some reason, you do need support, you will deal directly with 3rd line support, avoiding your need to replicate issues, send log files or be at the mercy of an escalation queue.

Reduces risk and increases uptime - Nimble Storage has a 99.9999% uptime guarantee across the entire Nimble install base. This gives you peace of mind that your data will almost always be accessible and available, ensuring your organisation isn't left without access to instrumental data and applications, and therefore, maximising uptime. Nimble Storage also boasts Triple+ Parity RAID, which can tolerate three simultaneous drive failures, as well as infra-drive parity and integrated sparing.

Cuts costs - primary applications (such as email, databases, file servers, and collaboration solutions) generate high volumes of random traffic and, as such, demand expensive, high-RPM, high-performance storage. Nimble Storage uses revolutionary Cache Accelerated Sequential Architecture (CASL), which combines flash memory with low-cost, high-density drives, eliminating the need for expensive high-RPM drives for primary storage and a separate disk-based backup solution. By replacing conventional storage solutions with Nimble Storage, organisations can significantly cut infrastructure and hardware management and maintenance costs.

Comprehensive data protection and security - Nimble Storage boasts significant data protection measures and procedures. Integrated data protection helps users backup more frequently and recover from disaster faster with application consistent snapshots and replication. Triple parity RAID further protects data as it is being written. It also features SmartSecure, a tool that enables encryption and shredding on a per-application basis. It saves storage capacity and operations time. One of its unique features is that it requires no custom drives, dedicated firmware or expensive licensing.
A cloud-ready solution
Nimble Cloud Volumes, is a cloud-ready part of the Nimble Storage product offering. It is an enterprise-grade, multicloud storage service for running applications on Amazon Web Services (AWS) and Microsoft Azure. It delivers all of the features associated with an enterprise cloud solution including, increased redundancy and reliability, security associated with the cloud.
Key features:
99.9999% proven storage availability
Millions of times more durable than native cloud block storage
256-bit AES encryption
Instant Snapshots for faster backups and recovery
Instant Zero-Copy Clones for Dev/Test, analytics, and cloud bursting
Nimble Cloud Volumes help to mobilise your data and eliminates it being locked into one specific provider. It is straightforward to move your data between public cloud and your own data centre. In tandem with Nimble's cloud-ready flash arrays, you will be able to construct your own multicloud data centre, with the ability to rapidly on-ramp data to cloud or move it to another provider, or back into your own data centre without any costly data egress charges.
HPE NImble Storage FAqS
How does Nimble do deduplication?
Nimble deduplication is inline and always on. All data coming into the array is deduplicated, which keeps your production environment as efficient and lean as possible.
Is there a performance overhead when using deduplication?
There is no direct overhead to using deduplication on all-flash arrays; on hybrid arrays, we recommend that the flash-to-disk ratio (FDR) is increased from 10% to 14%, as this will prevent any performance drop.
It's also worth noting that when using hybrid arrays, you will need to fill both bank A and bank B with cache modules.
Can Nimble deduplicate everything?
Although Nimble's deduplication is inline, meaning it sees all the data coming into the array from the host, it is still beholden to the normal rules of deduplication. Rich media and static images will not deduplicate, the same as in any other array.
What mix of disks gives the best performance in a Nimble array?
Unlike traditional legacy arrays, Nimble hybrid and all-flash arrays do not get their performance from the media; all performance is provided from the CPU and memory in the controller, starting at 25K IOPS for the entry-level array, and climbing to 300K IOPS for top-end models.
Does Nimble have encryption? is there a performance hit?
Nimble has software encryption built in (AES-256 cipher) combining application granular encryption and secure data shredding as standard, with no extra cost. There is a negligible performance hit to the array's performance - typically 1% or 2% - which is mainly due to the encryption offload engine built in to the array's controllers.
How good is the support and availability?
HPE Nimble has 99.9999% availability, with the InfoSight predictive analytics tool ensuring that 86% of all problems are solved with no human intervention. What's more, InfoSight's see-once-prevent-all feature actively stops all other systems having the same issue.
InfoSight takes the guesswork out of planning - for those wanting to know how their data use is trending, when they might run out of capacity, or what will happen when they run certain apps on their array, predictive analytics can provide the answer.
Nimble webinar: how to bridge the app-gap and achieve superior storage performance
HPE Master Accredited Solutions Expert and Checkmark IT Technical Director Stephen Wild has produced a 15-minute webinar aimed at showing IT professionals that getting your apps and storage to work together effectively is actually be a lot more straightforward, and inexpensive, than people think.
Find out more about the webinar here.
The Ultimate Guide to Nimble Storage
Checkmark IT have produced a comprehensive resource aimed at providing you with all the information you need about the solution.
Read and download The Ultimate Guide to HPE Nimble Storage here or click the image below: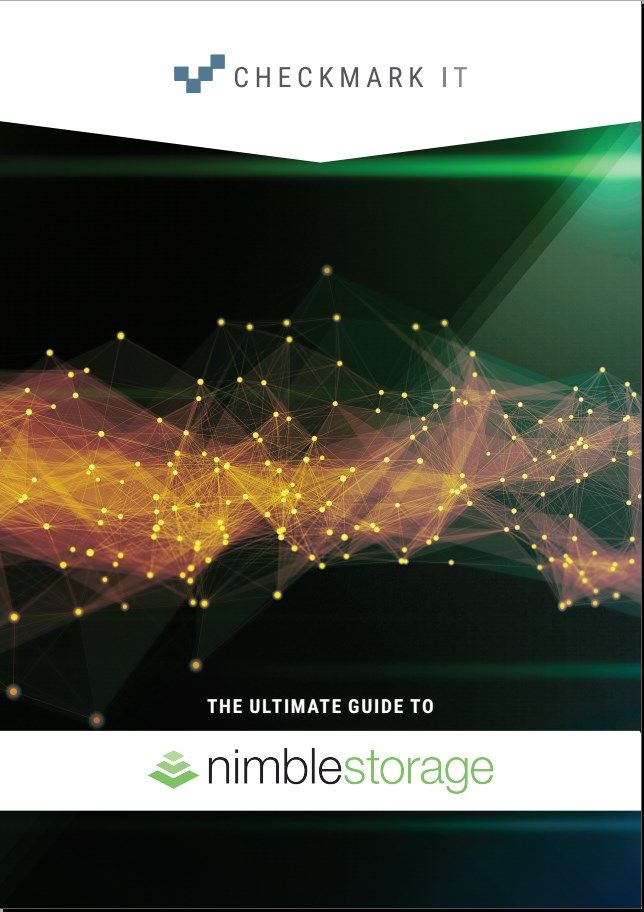 Why Checkmark IT?
We've established ourselves as an organisation that demands the very best from itself, our staff and the solutions we provide. We won't rest until we identify a solution that solves your IT related problem, in a way that works for you and your organisation. Our consultants are guided by our four pillars of great service:
Knowledgeable staff - we know you're an expert in your field, but it is tough to keep up with every single product and feature that can make a difference to your IT system. With Checkmark IT on hand, you'll have a partner that lives and breathes the world of IT, with consultants dedicated to gaining new knowledge, techniques and accreditations to improve the efficiency of your IT solutions

Friendly and honest - when you speak to us at Checkmark IT, we'll always tell you the truth. We pride ourselves on being informative, honest and telling you what you need to know instead of what you may like to hear, because for us the most important thing is your business getting the most from your IT systems.

Speedy and creative - when tackling projects on behalf of our clients, we aren't afraid to go the extra mile. We understand that sometimes solutions need to be implemented quickly or need a particularly unorthodox approach. We are well known for getting things done and finding creative solutions that others may not consider.

Excellent client relationships - we have long-standing relationships with our clients, who have continued to work and grow with us over many years. Our clients come to consider us as their go-to expert in everything IT related and value our expertise and support.
Contact us today
For more information about Checkmark IT, or any of the services you may require, call us now on (+44) 161 302 3900. If you'd rather email us, use our online contact form and leave us a message.